Hey, friends. Hope your week is off to a good start. We are well at the Cottrell household...minus a small allergic reaction Levi is going through. Ang and the kids went to Nona and Pop's farm over the weekend, while I was in Boise. They had an off-the-chart great time riding horses and 4-wheelers and canoes.
They took pictures ON the horses and 4-wheelers and canoes...but I don't have those on my computer just yet.
The team and I had a great time at LPL Boise. The event was such a blessing...and the teaching on 2 Timothy was killer. I am still sorting out how to be a Timothy and how to be a Paul...and do I have a Timothy in my life...and do I have a Paul. Good stuff.
By the way, some of you have been emailing about the song playing on the video recap. It is called "We Long For You," and is from the cd "Found." This past weekend was the first time we have ever played that song live.
When the event was over, we had a special treat. We were unable to get a flight back home on Saturday, so we stayed there until Sunday. Ever the sanguine, Beth was not about to let us stay over and have lots of fun without her. So she stayed over, too. We all had a great time. We went to a cool pizza place in downtown Boise. Then we came back to a conference room at the hotel and played games for hours. We played Fishbowl (always a favorite). And we played Pit. have you all ever played Pit? It is COMPLETELY ADDICTING AND TOO MUCH FUN.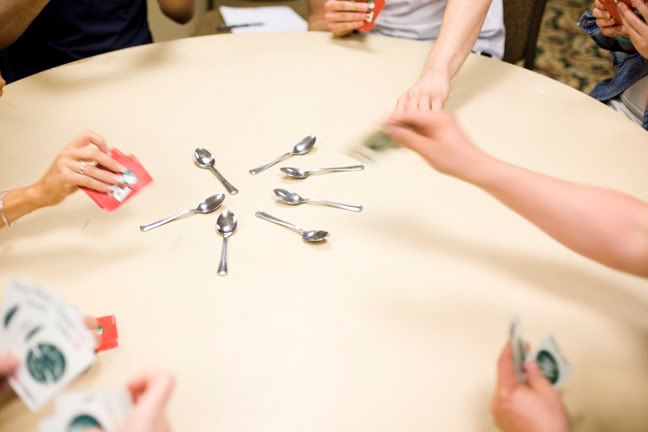 I know we don't look completely riveted in these pics, but trust me. We were. Intense. And riveted.
Because it doesn't matter, I won't tell you who won.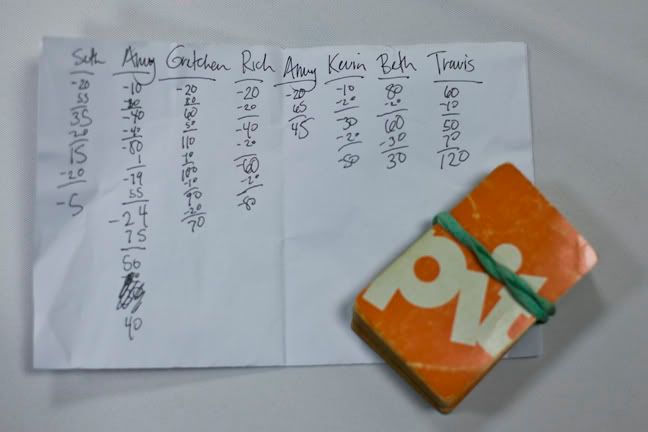 We also did a few rousing rounds of the Cha Cha Slide. Now THAT was entertainment. I wish I had a picture of that.
It's another Christmas-laden week for me. I have 4 more songs left to sing. I hope to get 2 of them done this week...1 tonight and 1 Thursday night.
You know it is a new chapter in life when I go through most of the day before I even realize the last night of Idol is tonight. All day...and I haven't even thought about it. If my buddy had not reminded me, I would have forgotten. Either I'm getting old or IT'S getting old. I feel SURE that it's getting old. Yeah, for sure. It's getting totally old.
I won't be live-blogging tonight since I'll be in the studio...but we'll chat tomorrow. Have a great day...
TC