I had practice tonight with the Forever Worship band and choir. What a great time it was! I love these people. Let me give you some history.
Back in 2005, I got an email from a promoter in The Netherlands who wanted to talk to me about coming over to do a small weekend tour with this choir. He said that the choir did a lot of my songs and arrangements. I was kind of flabbergasted by that. So I got online to see if I could find anything about them. I found a video of them singing Alive Forever Amen. I couldn't believe it. And they sounded incredible! The band, the singers...everyone. And, the unique thing about the choir is that THEY ARE ALL HOLDING THEIR OWN MIC. ALL 30 OF THEM. Cue the tears from the sound guy. I had never seen anything like it.
So, I got on the phone with the choir director. We prayed. And then we made some plans. And I came over for a 3 concert weekend that same year. And I fell in love with these folks the first night I was worshipping with them. We had a great weekend. The Lord did some merciful things during the concerts. But He did some really unexpected and wonderful things in our prayer times and devotionals as a group off the stage, too. I will never forget it.
OK...so as I left, I told them I was going to see them again, and next time, maybe it would be on American soil. Little did I know how quickly the Lord would bring it to pass! We began talking, and before you know it, they were on a plane headed to Nashville! Like 40 of them. They came here the last weekend of February of '06. They sang with me at Living Proof Live Birmingham (were any of you there?). And after the conference, we came back to Nashville and sang in two different churches on Sunday morning and Sunday night. They went sight-seeing on Monday, we partied on Monday night, and then they headed home the next day. It was total joy. All of my friends chipped in and offered their guest beds for them to stay...what a blessing my community was to me that weekend.
So, now it is two years later, and I am so happy to be back with them (I only wish my bride was with me). They made me a survival kit and presented it to me tonight. Among other things, there was a picture of my kids, a snow globe picture of Angela and me, and a box of tissues in case I get too sad being apart from them. Here is a close up of the pics in the survival kit. Awwwww...
I'm taking that snow globe with me everywhere I go from now on.
(P.S. - Something's up with my picture posting. I can't post pics so that they will be bigger when you click on them. Not sure what is up with my Photobucket. But I will work on it.)
I need to point out that they also included numerous packages of my favorite cookies in the world - stroopwafels. See those little waffle looking things behind the picture? Come on with it. Mmmm good. When they came to Nashville back in '06, they
each
brought me a pack of stroopwafels. Angela and I froze those bad boys and ate them for a year.
This is a picture of the choir director and his wife - Marcel and Annemarie Koning - when they came to Nashville this past spring for Gospel Music Week. They call him EuroTrav. HAHAHAHAHAHAHAHA.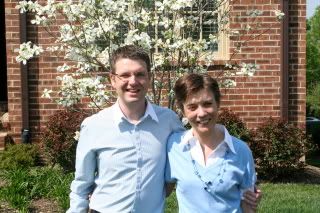 We are going to have a great time worshipping together this weekend. Please pray for us. Pray that the Spirit of the Living God will fall, and the glory of God will shine like the heavens. Pray that Jesus will permeate everyone's realities...and will change lives for the glory of His name. Thank you for your prayers.