Hey, everybody. I am sitting in the dark, in the corner of my hotel room in Houston, TX this morning. Angela is asleep, and I am trying not to wake her. We are in Houston for Melissa Moore's wedding...and we are without kids...so this is Angela's big chance to sleep the day away. And I hope she is able to. My sister Kathy drove in from North Carolina to keep the kids while we are here. They were so excited to be with Aunt Kathy. They had the counter lined with one homemade valentine after another...complete with bags of little hearts and a huge Hershey Kiss. They will spend the morning going from one basketball game to another, until mid-afternoon, when I predict they will come home and spend the rest of the day playing Wii.
I have missed blogging these past two weeks...but it has been such a busy time, I have been preoccupied with a ton of other things. And when I finally do get to my computer, I end up either working on praise team stuff, or reading about the blogging
Compassion International
trip. I think I just woke Angela up, crying over a
video
where
Shannon
met the child that her family sponsors. Very moving. I have been praying for
Brian
and
Shaun
and
Sophie
and everyone on this trip. I am pumped to be a part of bringing hope to as many of these sweet kids as I can.
I knew that my blogging absence was noticed when I got a note from
Mel
basically saying GET THAT SUPER BOWL ENTRY OFF THE TOP OF YOUR BLOG. And speaking of
Bigmama
, I was inspired by her list of 80's songs. Being an 80's music junkie AND expert, I am going to list for you my 80's playlist on my iPod. But not now. I'm afraid listing it now would cause me to break into much loud singing and busting of grooves (emphasis on BUSTING) and wake my bride. So I will do that on my next post.
Just know that it is a long, extensive and joy-inducing list.
Last weekend I had the privilege of serving with
Max Lucado
at a 3:16 event. 3:16 is the name of his latest book. It's an amazing work...go get it and read it. I had the privilege of creating a worship musical as a companion piece to the book. And we did an event together last weekend in San Antonio...along with Michael W, Mandisa, Sandi Patty, Anthony Evans, and others. It was a great time.
Then, I stayed over and led worship at
Max's church
on Saturday and Sunday, and had an amazing time. Their worship leader, Jeff Nelson, was a blast to work with, as was their whole worship team. One of my very best friends in the whole wide world - a friend from college - married Max's niece. And they (Larry and Allison Blake) came in for the weekend. So we all stayed at Max's house. Yes you heard me right. I spent the night at Max's house. I know it is so uncool and gooberish of me to tell this. But I was so geeked to be there. And we had a GREAT time. And he read "You Are Special" to all of us at bedtime.
OK. That's not true. But He and his wife Denalyn were gracious and warm and generous hosts. The Lucado's used to be missionaries in Brazil. And Denalyn cooked us some kind of Brazilian beans and rice meal that caused me to embarrass myself I ate so much. Yum.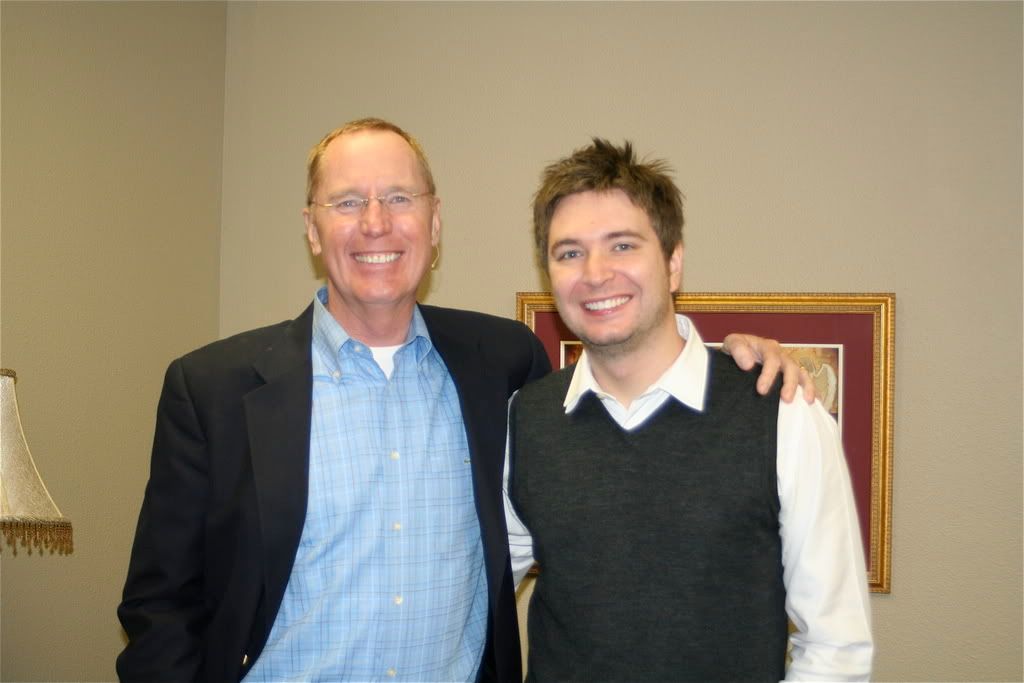 Jenna Lucado, one of max and Denalyn's daughters, sang with me on the praise team at their church. She has a BEAUTIFUL voice, and was a joy to hang with. She is currently teaching on the Revovle tour for young girls. Expect the Lord to continue to use her mightily in her generation.
And as if the weekend could get any better...I got to meet my all-time favorite athlete....David Robinson, formerly of the San Antonio Spurs.
I knew that he went to church there, and even serves on staff. So I had my 10 or so David Robinson trading cards with me for him to sign. I felt slightly stalkerish when I pulled them out...but he was gracious and kind. We had 15 or 20 minutes to visit. I spent the whole time trying to put my brain into record mode...wanting to remember everything we talked about.
I have missed a few events that I wanted to blog about...like my birthday celebration with the family. We took some great pictures, and I will share them with you soon...if you don't mind that it's old news.
OK...for real, she could sleep until 3pm. I'm not lying. And SHE DESERVES IT. She is one amazing, home-schoolin', home-cookin', house-keepin', taxi-drivin', kid-raisin', carrot-juicin', bargain-shoppin', song-writin', bible-teachin', girl-mentorin', cool jean-wearin', choir-singin', ever-prayin' ever-lovin' hottie.
And she's mine.
Happy weekend to you...
TC